The Myrtle Tree (or Myrtus communis) is a dwarf tree or shrub that's cherished for its abundance of dainty, evergreen leaves that adorn the branches year round.
In summer, the tree blooms with gorgeous star-like blooms that release their fragrance into the air. Once the tree has finished flowering, small blue-black berries begin to grow on the branches. While the berries are sweet and edible, they are rarely eaten and instead are used to make a traditional Sardinian liqueur known as Mirto. You can find the recipe for Mirto on our blog.
Myrtle Tree Meaning
The myrtle tree coined its name back in Ancient Greece, derived from the word 'myrtos' meaning 'sprig'. Both the myrtle tree and its flowers are adored by many and thus became a symbol of all things love, good luck, and prosperity.
Myrtle Flower Symbolism
It was said that having myrtle flowers in the home brings good luck, energy and positivity. Therefore gifting a myrtle tree is thought to inspire lots of good luck and happiness into the lives that it is given. That's a perfect long lasting good luck gift if you ask us!
The blooms that grow on the myrtle tree are small and white in colour. The white colouring of the blooms have given it association with innocence and purity making them popular to use in religious ceremonies and rituals.
Back in the day, myrtle flowers were a popular gift to give at weddings. The pathways in which the bride would walk would be decorated with sprigs of myrtle and a crown of myrtle flowers would be placed upon the brides head to attract positive energy and grant the couple long-lasting love.

Myrtle Tree Symbolism in Ancient Mythology
Look back through Greek mythology and you will find that the myrtle tree is held in high esteem.
One story tells us of how Venus visited the island of Cytheraea. Upon her arrival she found herself naked and realised she could not present herself to the residents this way. Instead she covered herself with sprigs picked from the myrtle tree and from that day on the myrtle tree was sacred to Venus. After this it was believed that the myrtle tree could inspire true love and good fortune and the Greeks planted the trees across the landscape for all to behold.
Also believed to grant luck to those in the afterlife, Ancient Greeks decorated the tombs and graves of their loved ones with myrtle flowers.
More recently, Myrtle was used beautifully in the late Queen Elizabeth's funeral flowers. This myrtle in particular was from the same plant that the Queen carried in her wedding bouquet in 1947, when she married Prince Philip.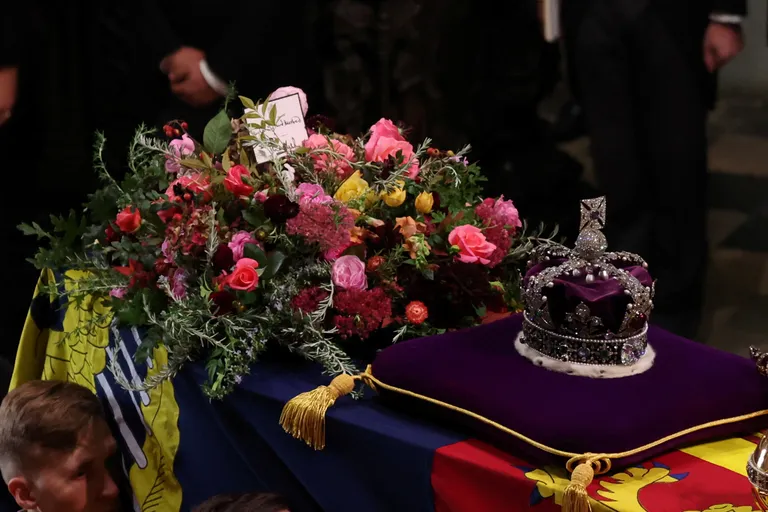 Myrtle Tree Uses
As well as creating the delicious liqueur Mirto, the myrtle tree is also known for its healing properties.
Myrtle leaves contain essential oils which have been used for their antibacterial and antiseptic qualities.
Other medicinal uses for both the myrtle berries and leaves include:
Improved digestion (berries)
Treatment of colds, bronchitis, and asthma
Reduced inflammation in the body
Treatment for skin conditions, including acne, eczema, and psoriasis
With the myrtle tree's association with love, good luck, positivity, and abundance it makes a truly wonderful gift to send to someone who you hold dearly. Whether you send it for their birthday, on their wedding day or even to welcome them into their new home, it is a gift to be appreciated for years to come.
Place an order today and our devoted gardeners will hand select the best tree before gift wrapping it ready for careful delivery.
[Image source:  https://www.marieclaire.com/celebrity/royals/queen-funeral-bouquet-flowers/]